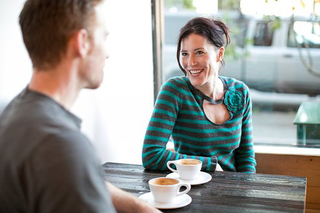 21 Great Questions For A First Date
Dating can be tricky. What should you wear? Where should you meet? Who should pay? Should you offer to pay? What should you eat? And, the list goes on.
Try not to worry too much on a first date. Remember, this doesn't have to be the person that you marry.
Look at the first date as an interview. You are getting to know someone new. Try to have fun and not be too serious. There are definitely a few rules to follow. Don't talk on your cell phone. Don't do all the talking. And, ask your date questions. This will help your date open up and feel that you are genuinely interested in them.
What do you like to do when you're not working?
What type of music are you into?
Are you a cat person or a dog person?
If you won the lottery tomorrow, what is the first thing you would buy?
Do you have any siblings? If so, are you close with them?
Do your parents still live in the house you grew up in?
Do you ever cook?
What is your social life like? Do you have a big group of friends or a small group?
Do you like sports?
Are you a movie person or a T.V. person?
How do you like to spend Saturdays?
What type of work do you do? Do you like it?
Where are you originally from?
Are you close with your parents?
Where else would you consider living?
Do you volunteer anywhere?
What was your favorite vacation?
Any plans for travel in the future?
When is your birthday?
Do you like children?
What are you looking for in a relationship?
Make sure that you are having fun, when you are dating. If the first date doesn't work out, that's alright. You can always meet more people. Learn to ride with the highs and lows of dating. This is a great time to get to know yourself better.
Lianne Avila is a Licensed Marriage & Family Therapist in San Mateo, CA. I have worked with many singles, and have helped them get to know themselves at a deeper level. For more information, please call (650) 892-0357 or email Lianne@LessonsforLove.com.