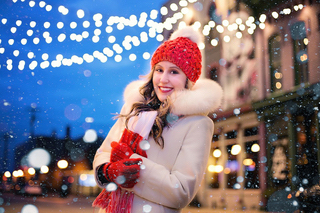 5 Ideas For Reducing Stress For The Holiday's
The Holiday season has begun. Do you look forward to it? Or, do you just hope and pray that you will get through it? It really doesn't have to be that stressful. Remember, this is the season of being thankful, and spending time with loved ones.
It's easy to get caught up in the busyness of the Holiday's. Which Christmas party should you go to? Did you get the right gift for your child or spouse? Is there enough food? Is your niece allergic to dairy? If so, how should you make the mashed potatoes? And, all that other stuff. Don't let this get in the way of enjoying the Holiday season.
Here are 5 tips that can help reduce stress during the holiday season:
Acknowledge your feelings. It's easy to put everyone else first during this time of year, and yourself last. When you do this you can feel tired and burnout. You may also start to feel resentful, and that others aren't doing enough for you. It's alright to let people know how you are feeling. Maybe, the holiday season makes you feel blue. Let your friends and family know that, and let them know why.
Stick to a budget. There is so much out there to buy, and there are so many good sales. If you don't plan ahead, you may end up in debt that you will have a difficult time paying off. Make out a list of people you'd like to buy gifts for. Then write out what you would like to buy them. Do a little comparative shopping. Don't feel like you are cheap. There is nothing wrong with spending within your budget. This will help make it less stressful when it comes time to pay the bill.
Don't say yes when you mean no. I know this is the season of giving. But, you don't what to get in too deep. There are many places to volunteer. Pick one that is close to your heart and try not to go overboard. You don't have to buy your children everything on their Christmas list. This is where writing out a budget will come in handy. If you are hosting a party, don't feel like you have to make everything from scratch. Let your guests bring a dish to share, or buy something that is already made.
Set aside differences with others. There is always family drama. Don't let it spoil the holiday's, for yourself or your family. This is a great time to let go of the past and start fresh. Maybe, you don't feel your in-laws do enough for you. It's alright to feel that way, but try to see the good in the situation. Maybe, your daughter doesn't call you enough. If she is there for the holiday's, be glad that she is and let her know that.
Don't abandon healthy habits. With all the parties and entertaining, it's easy to blow it and overindulge. It's alright to have a little bit, but you really don't want to overdue it. This will only add to your stress, especially when the holiday's are over and you step on the scale. Keep healthy snacks at home and at the office. Don't stand next to the buffet table at the party. This is a great time to get out and mingle. Try to fill up on lean proteins. This will help you feel food. When you are going to a party, plan ahead. Think about what you will eat and drink. Start out with veggies. Try not to have more than one or two alcoholic drinks. Limit the amount of carbs that you eat. Have a small portion of dessert, so you don't feel deprived.
It's alright to lean on others, you shouldn't feel like you have to do everything. Make sure you are around people that appreciate this season. Rather than let the negativity take over. It really is a short time, try to enjoy it.
Lianne Avila is a Licensed Marriage & Family Therapist, in San Mateo, CA. She has helped many individuals and families, get through the holiday season with a sense of joy in their heart. For more information, please visit www.LessonsforLove.com.