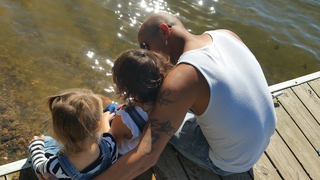 6 Tips For Single Parents Raising A Child
Just because you are single, doesn't mean that you and your child can't flourish. Think of all the single parents raising a child out there.
Which ones do you admire? Make a list and keep it by your side. The next time you are feeling down, pull it out. This will help make you feel better, and know that you are not alone.
I have a lot of respect for single parents. You really have mastered the art of multitasking. There aren't many people that can say that. I know it's not always easy. Try not to be too hard on yourself. You will get through this, and you will also learn a lot from it.
Give your child a break.

Remember, they have also been through a lot. Let them sleep in on Saturday morning, or watch their favorite movie. They didn't divorce the other parent. It's important that you don't speak negatively about the other parent in front of the child. This will cause your child to feel anxious. You need to respect your child. They now have a whole new routine. Give them time to adjust.

Don't spoil your child, because you made a mistake.

 A lot of parents feel guilty after a divorce. You are worried how it will affect your child. Will they grow up with a low self-esteem? Will they make the same mistake you did? And, so on. Remember, you are human and so is your child. We all make mistakes. You can't go back and change what has happened. Make sure to set the same boundaries you would if you were still married. If you don't, they will think they can get away with more. This is not how you want your child going through life.

Learn how to manage your finances.

It's easy to overlook this one. You don't want to max out your credit cards. I want you to keep track of what's coming in and going out for one month. This means everything. Then, budget accordingly. Look for sales and spend wisely. If possible, start a savings plan. That way you will have a nest egg, when you need one.

Remain positive.

I know you have been hurt. It's easy to be negative during this time. If you stay negative, this will only bring you and your children down. Pick a positive affirmation, and repeat it throughout the day. This will start to retrain your brain. Maybe, you went through a difficult divorce. Instead of telling yourself you made the biggest mistake of your life. Tell yourself, you learned some things and now it's time to move on.

Set aside quality time with your child.

Dating isn't just for couples. It's important to have a date with your child. You can take your child out for ice cream or to their favorite restaurant. You can also spend quality time with them at home. Make a smoothie and hang out. Ask your child questions and wait for answers. This will help build the emotional closeness, you desire with your child.

Don't lose yourself in the process.

You now have double the work. You have had to adjust to a whole new schedule. It's easy to forget about yourself in this process. You want what's best for your child. That's alright, but it's easy to put yourself last on the list. Set aside 10 minutes a day for yourself. You can do whatever you want. Breathe, listen to music, have a cup of tea, etc. Then, schedule a massage or go on a hike. Nature is good for your emotional health.
These tips are sure to help you adjust to your new life. They will also help your child adjust. You can break out of the rut you are in, and live a reasonably happy life. Start today, with just one of these tips. You will begin to feel better and realize that you can get through this.
Lianne Avila is a Licensed Marriage & Family Therapist in San Mateo, CA. She has helped many single families get their life back on track. For more information, please call or email (650) 892-0357 or Lianne@LessonsforLove.com.