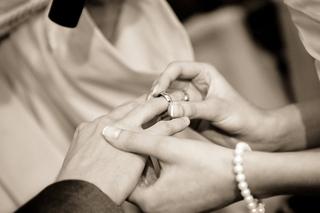 7 Tips To Survive Your First Year Of Marriage
The wedding was beautiful. You had the perfect ceremony, followed by the perfect reception. You were surrounded by friends and family, that were for you. Next the honeymoon, maybe you went somewhere far away. It was just the two of you day and night. The sparks were flying.
When you're in the right relationship, it's the best feeling. You know your partner gets you and has your back, at all times. For some people the first year of marriage is great, for others that's not the case. 
They need to make adjustments and have a difficult time with it. Maybe, you didn't land the job you wanted or you had to move. Inflation rose more than your salary. You didn't know he liked to watch T.V. as much as he did. If you are married, then you know what I am talking about.
There is good news, you can get through the first year of marriage. You can be reasonably happy in your relationship. Here are 7 tips to help you out:
Make sure you know one important thing about your partner's day before you leave the house. Regardless, of how big or small you may think it is. It's important you know what's going on in your partner's day when you aren't there. Be supportive when your partner tells you about their day. If they have an important presentation, let them know you'll be thinking of them during that time and sending good thoughts their way.
Stay in touch throughout the day. This is when a smart phone is great. You can call, text or email your partner. Let them know how the presentation went. Ask them questions about their day. Take a genuine interest in your partner's life. Remember the song, I just called to say I love you. There is a be a big payoff to that.
Think fondly of one another. When you are away from your partner, what thoughts run through your mind about him/her? It's easy to think of what you partner hasn't done or what you don't like about your partner. When you think negatively about your partner it has a negative impact on the relationship. Try remembering the good times. Think of your favorite dates or moments in the relationship. 
Remember to play. Inside the bedroom and outside the bedroom. It's important to touch one another, often. The next time the two of you are in the kitchen, playfully rub up against your partner. Hold hands, hug and cuddle while watching T.V. Kiss, for a minimum of 6 seconds. The brain changes when this happens and it actually helps you slow down.
Listen with interest. That's right, take a genuine interest in what your partner has to say. It's important to shut off all gadgets. Set aside at least 15 minutes to listen to your partner each day. Make sure you each get a turn. Don't interrupt your partner while they are talking. Even if it's a subject you are not really interested in, listen. The rewards are great. Your partner will feel loved and genuinely cared for. 
Go out on a date. Once a week is best. Treat it like you did in the beginning of the relationship. Take the extra time to get ready. Make a reservation at your favorite dinner spot. You can also stay in and have a date. What's important is that the two of you have time alone. Talk about the relationship. Ask your partner questions. Just be excited and interested to be there. Keep your mind off work and away from your phone.
The small things make a big difference. I say this a lot. It's really true. Use your body language to let your partner know that you really care. Smiling, eye contact a gentle rub. These can all go a long way. Let your partner know what you appreciate, for example, 'I really like your sense of humor, or that you always finish your projects.' Thank your partner for going to the grocery store, or keeping up with their fitness program. Saying thank you never gets old. Your partner will feel genuinely loved and appreciated when you do this often.
Relationships aren't always easy. But with a little hard work and effort, you can make it work. It's easy to get caught up in work or other obligations. This is when you begin to move your relationship further and further down the list. Remember, to keep your relationship a priority in your life. By doing so, it is much more likely to last and be fulfilling. 
Lianne Avila is a Licensed Marriage & Family Therapist in San Mateo, CA. She has been trained to use The Gottman Method for Couples. For more help please call or email, (650) 892-0357 or lianne@LessonsforLove.com.