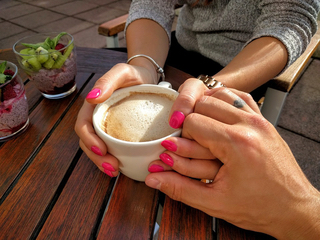 What Is Your Balance On Your Emotional Bank Account In Your Marriage?
When was the last time you took a look at your emotional bank account?
Have you ever looked at your relationship as a bank account? Like any bank account the more deposits you make, the more it grows. You can also make withdrawals. You need to be careful here. Like any bank account, if you make too many withdrawals without making any deposits, then your bank account will become overdrawn and is at risk of closing.
It's important to make a lot of small deposits along the way. If you make a large deposit without making any small deposits, it won't make a big difference. You also need to remember, that not every withdrawal or deposit is worth the same amount. Some withdrawals cost a lot more than others. Just as some deposits are worth more than others.
Here are 7 small deposits to make to your emotional bank account:
Be grateful. Everyone wants to feel appreciated. Make sure to let your partner know that you are appreciative. Tell your partner, 'Thank you,' when he folds the towels without being asked. Tell your partner, 'I appreciate,' that you came home early from work to spend time with the family. After you have been married a while, it's easy to forget about the small deposits to your emotional bank account. Make sure to make them a priority in your life, again. This will help the intimacy.
Set aside time for fun. When was the last time you had fun with your partner? After having kids, buying a home, and getting a promotion at the office. It's easy to put your relationship last. I want you to put fun on your calendar. If you enjoy live music, then set aside time to see a concert. Remember, fun is simply laughing together.
Share a six second kiss. Remember kissing? Make sure you kiss when departing and reuniting. This will help increase the emotional and physical intimacy. According to Dr. Kory Floyd, physical contact releases oxytocin. AKA, the bonding hormone. This can help you stay calm and increase your mood for days. Don't stop with kissing, hold hands, hug and play together.
Get physical together. Go for a hike, a bike ride, or a cardio class with your partner. Go for a walk together after dinner. You can also make it more adventurous. Try white water rafting or kayaking together. Studies show that it is good for couples to share an exciting experience together. This can help build closeness in the relationship.
Go on a vacation together. Set aside a time where you and your partner can get away together. Get someone to watch the kids. It can be just for the weekend, if you'd like. Make this your annual getaway. Try to pick something in your budget where you both will have fun.
Eat dinner together without electronic gadgets. This may not be possible every night. But, try to set aside a few nights where you can have dinner together. What's important is that there are no distractions. This will also give you a chance to talk about your day.
Learn to have a stress reducing conversation. Spend at least 20-30 minutes at the end of the day talking about your day. This can be at dinner if you'd like. This is a time to talk about external stress, like work or friends. This is not a time to talk about the relationship. Make sure you are listening and showing compassion to your partner. Even if the issue seems small, it's important to talk about it. This will give you a better understanding of your partner.
This is a great beginning to building understanding in the relationship. The Gottman's found with their research, it's most important that their is understanding in the relationship. Without understanding it will be difficult to manage conflict and have a good friendship. This also affects the intimacy in the relationship.
Are you looking for more information on how to rebuild your emotional bank account? You'll find more of that in Relationship Challenges. 
Lianne Avila is a Marriage & Family Therapist in San Mateo, CA. I have been trained to use The Gottman Method for Couples. I have been able to help many couples rebuild their emotional bank account. For more information, please call (650) 892-0357 or email (Lianne@LessonsforLove.com).