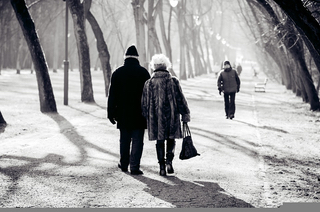 The 5 Most Common Relationship Problems For Seniors
Everyone has had relationship problems, at one time or another. A lot of the time, it's just the same problem over and over. AKA, perpetual problems. It's natural to want to solve your perpetual problems. But, this doesn't always happen. Instead, try to understand the problem and see where your partner is coming from.
Unfortunately, sometimes your perpetual problems can drive you apart. Or, they can keep you together. Whatever the case, they do exist. Aging is a natural part of life, we all have that in common. If you have been in a relationship for a while, your problems can change. Instead of worrying about your child eating the right foods, you may be worrying that your spouse is eating the right foods. Or, instead of taking your child to see the doctor, you may be taking your spouse to see the doctor.
You may both be retired, and have more time to spend together. You may be a part of a few social groups. The good news is, you have more time to do the things that you enjoy. The bad news is, this comes with a new set of problems.
Here are 5 common relationship problems for seniors:
Your spouse has passed away.

When you lose a loved one, it's natural to feel lonely. You were used to seeing your partner everyday. Now your partner is gone. What does that mean for you? Make sure you allow yourself to grieve. Let yourself feel all the emotions that go with grieving. There is no right or wrong way to grieve. This is a great time to do a little extra for yourself.

You are living on a fixed income.

This means you wait for that social security check every month. If you planned for retirement, then good for you. Maybe, you have an IRA or a 401K you can draw from. A lot of seniors are worried they are going to run out of money. What happens is, they don't spend much on themselves or what they need. This is a time, where having a massage can do wonders. It's also a time where traveling can really be good for your mental health. If you can, spend money on things that help you feel good.

Resistance to change.

Now that you are both home, you can share more of the responsibilities. Like, cleaning the house or taking care of the yard. If you aren't able to, you can hire someone. Sounds simple, but if you are resistant to change you may not like this idea. I have seen elders work in the yard, until they are ready to collapse. They would rather die from exhaustion, than hire a gardener to help.

Feeling isolated, because of chronic pain issues.

If you have chronic pain, then it affects your relationship. You were used to living an independent life. Now, things have changed. Maybe, you are in bed more than you used to be. Or, maybe you need a wheelchair. Help with bathing and clothing. This can feel awkward and unnatural at first. But, this is a reality for many seniors. It's alright, to ask for help. It's also alright to need help. Maybe, your spouse is your caregiver. This can put a strain on a relationship. Being a caregiver is no easy job. Make sure your caregiver is getting the rest and the breaks that they need. Also, don't feel guilty. You have worked hard, and now it's your turn to be taken care of.

You can't stop the bickering.

I don't know if this is a bad thing. My parents have been married for almost 58 years. I still hear them bicker over the same things. I guess it has worked for them. Now, I'm not saying be abusive. But, I guess after being married for a while, you don't feel like you need to impress your partner. So, you get to be yourself. I think that would be a great feeling.
Remember, you are making big changes. Your body and mind are also going through a lot of changes. This is the natural part of aging. Spend time doing things you love, and with people that you love.
Lianne Avila is a Licensed Marriage and Family Therapist, in San Mateo, CA. If you have an aging parent or family member, I am here to support you emotionally. For more information, please visit www.LessonsforLove.com.