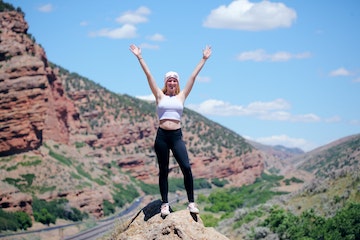 Self-Care – 1 Day At A Time
Are you tired of feeling stressed out? If you answered yes, then you should take a look at your self-care plan. Do you put self-care on your calendar? If you answered no, then why not?
People are more stressed out than ever these days. Stress is the number one killer. What can help decrease stress in your life is self-care.
What is self-care?
Having a self-care plan doesn't mean you are selfish. It's means you are being mindful about taking care of yourself. That you are prioritizing your own self-care. It's easy to put everyone else first. When you do this you don't leave anytime for yourself.
You will start to burn out, and even grow resentful of others in your life. People will get the wrong vibe from you, and you will push away your friends and family. You are also putting your physical and mental health at risk.
Self-care – one day at a time:
Day 1 – Surround yourself with positive people. Who are the five closest people you have in your life? What are they like? Do they have positive energy? Do they complain a lot, are they negative? Do they help uplift you, or do they bring you down? When you have positive people in your life, this will help you have a positive attitude.
Day 2 – Learn and practice relaxation techniques. Try mindfulness or meditation. Take a yoga class, or try tai-chi. Even if it's only 10 minutes, it will make a difference. You can practice it alone or with others.
Day 3 – Stop saying yes when you mean no. This means setting healthy boundaries for yourself. Putting yourself first is not selfish. You will feel better about yourself, and you will have more energy to do the things you want to.
Day 4 – Eat healthy food and drink plenty of water. Food is fuel for your body. Stay away from sugar and caffeine. Don't rely on alcohol or drugs to get you through the day. When you do this you are putting your health at risk.
Day 5 – Accept that there are events that you can't control. This also means there are people you can't control. This means you need to learn to let go. By doing this you are allowing the new to come into your life.
Day 6 – Make time for fun. Invite a friend out to a concert. Have friends over for dinner. Go to the beach, listen to music. Do things that you enjoy and that bring pleasure into your life.
Day 7 – Get plenty of rest. This will help you focus and be less irritable. You also won't hate it when your alarm clock goes off in the morning. The brain needs to reset, and sleep will help with this.
There you go, keep it simple. When you think of self-care, you think of massages or a mani/pedi. Those are nice things, but self-care is something you practice daily. You take care of your mind, body and spirit.
Pick one day of the week to start these. You can always add to the list. You have started some things that you like. After you finish with day seven, start over. Make sure you stick with it.
This year I have made sure that I drink plenty of water. I have made sure to stick with it, and I already feel better. I'm not as hungry and I sleep better. Water is also good for your skin. This is a simple and achievable goal for all.
Once you start, you won't be able to stop. You will feel better. Your friends and family will start to notice, and wonder how you did it? Feel free to share the wealth. Everyone can benefit from a self-care plan.
If you liked this article, there are more in Taking Care Of Yourself. There are many helpful tips that will help you feel better about yourself.
Lianne Avila is a Marriage & Family Therapist helping people in San Mateo, CA who are looking to create a life that is happier and more fulfilling. Please subscribe to Lianne's newsletter on www.LessonsforLove.com to learn more about her services and expertise.